Melancholia by Albrecht Dürer
Print, c. 1910.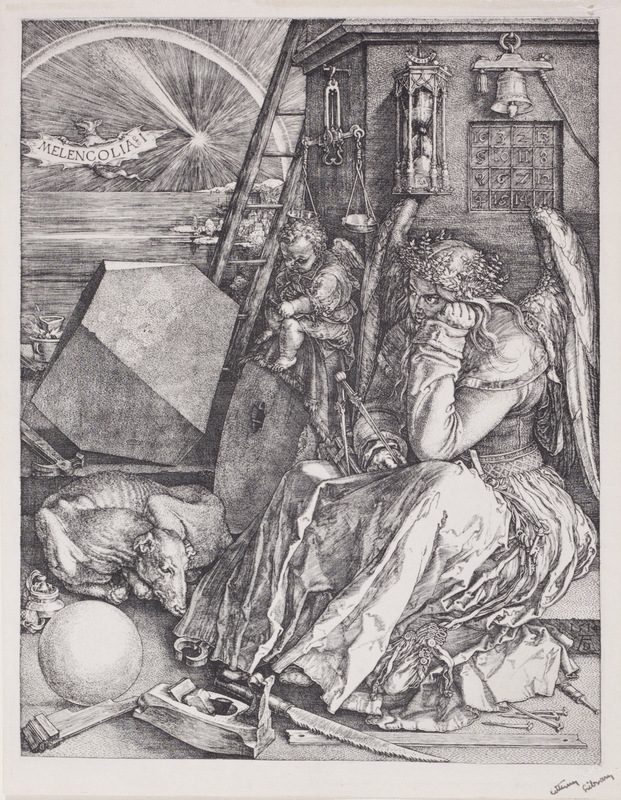 Art work details
Year of production :

1910

Artist:

Medium :

Print, facsimile reproduction (photogravure)

Materials:

Dimensions :

height: 25.6 cms; width: 19.8 cms

Tags:
From an engraving in the British Museum (1514).
The Melancholia by common consent ranks among the finest examples of engraving Dürer ever produced. As with the Knight, and St Jerome, scholars and historians remain divided over its symbolic meaning.
The winged figure of a woman sits staring into the distance. She holds a pair of compasses, and around her a strange mix of objects – nails, pincers, a plane and saw, a sphere and geometric carved block lie scattered and unused. A bony dog lies sleeping, a strange bat-like creature has the title inscribed on its wings and an angel (putto) scribbles on a tablet nearby.
Aristotle wrote that melancholics were earnest men with a gift for intellectual work, and perhaps the work may simply be a refined study of deep, speculative thought.