St Jerome in His Study by Albrecht Dürer
Print, c.1910.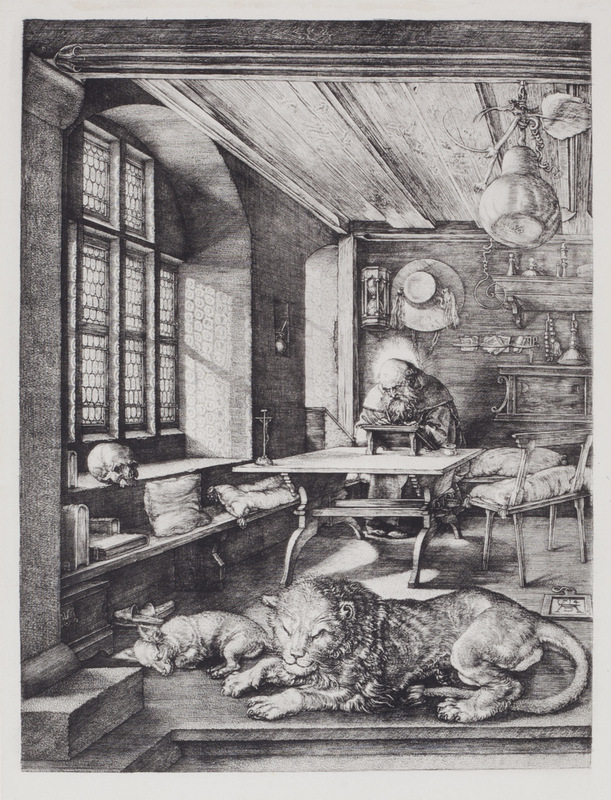 Art work details
Year of production :

1910

Artist:

Medium :

Print, facsimile reproduction (photogravure)

Materials:

Dimensions :

height: 26.1 cms; image width: 19.6 cms

Tags:
From an original engraving in the British Museum, (the Malcolm Collection), (1514).
Along with Knight, Death and the Devil, historians generally agree this engraving to be one of Dürer's finest technical accomplishments. The pleasant comfortable room, with its cushions, sunlit window and sleeping animals contribute to a feeling of cosiness.
The saint can be recognised by his symbolic attributes – the sleeping lion, the cardinal's hat (by the hourglass), and the skull placed on the windowsill, a 'memento mori', or reminder that earthly life is brief. Scholars and historians are divided as to whether the Knight, Melancholia and St Jerome are linked.
One theory is that they are an incomplete series of the four medieval Temperaments or Complexions. Others feel that Melancholia and St Jerome are a pair, one the stormy discontented scientist, the other the peaceful theologian, studying in the light of divine revelation.