Egon Schiele, New Works on Display
New Walk Museum is delighted to announce the new display of three artworks, on loan from a private collection, by the acclaimed Austrian artist Egon Schiele.
Born near Vienna in 1890, Schiele developed a highly individual style.
With his signature painting style, presenting portraits of distorted, strangely angled sitters, defying conventional beauty, Egon Schiele became one of the leading painters of Austrian Expressionism.
His portraits and self-portraits are unflinching explorations of their sitters' psyches and sexuality, and are among the most remarkable of the twentieth century. The artist, who was astoundingly prolific during his brief career, is famous not only for his psychologically and erotically charged oeuvre but also his intriguing biography: his licentious lifestyle marked by scandal, notoriety, and a tragically early death in 1918 of influenza at age twenty-eight, at a time when he was on the verge of the commercial success that had eluded him for much of his career
'Boy in a Green Coat', gouache on paper, painted in 1908;
A strangely melancholy young boy with head on one side, wearing a long green coat.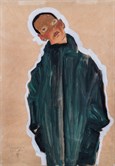 'Seated Boy', gouache on paper, painted in 1910;
A nude youth seated on the ground, with long thin arms and dark hands.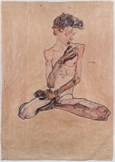 'Portrait of Black-Haired Woman', black chalk, 1918
At this time Schiele was producing numerous portraits, including of his wife Edith. A striking study, particularly the sitter's large, expressive eyes.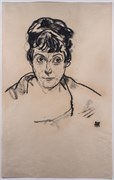 "It is delightful to be able to see these works by Egon Schiele. His work is only rarely seen in the UK, so this is a real coup for Leicester. The artist created over three thousand drawings during his brief career. Even though these works are small in scale, they show Schiele's unusual style and radiate a powerful energy."
Simon Lake, independent museum curator and historian, 2018.