Portrait of Heinrich Simon by Max Beckmann
Lithograph, 1922.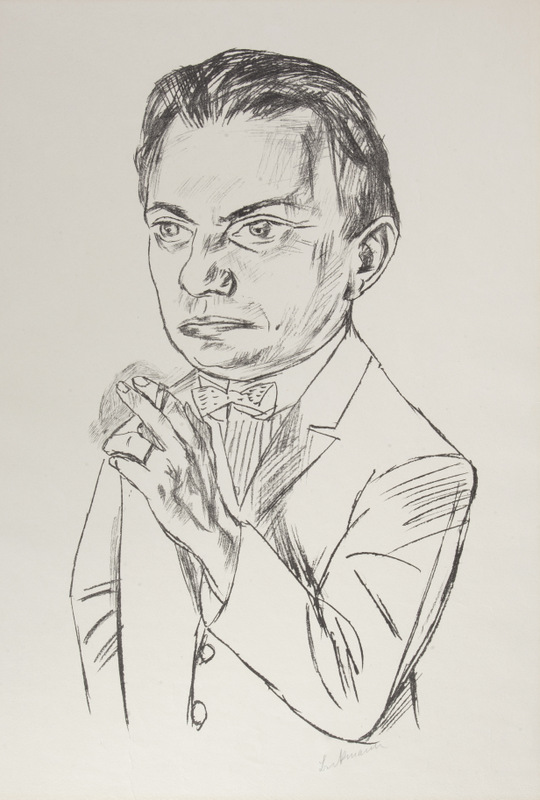 Art work details
Original Title :

Bildnis Heinrich Simon

Year of production :

1922

Artist:

Medium :

Original print, Lithograph

Materials:

Dimensions :

height: 58.5 cms; width: 40 cms

Credit Line :

Purchased from Mrs Margaret Fisher

Copyright :

© DACS 2013.

Catalogue References:

Glaser 198. Gallwitz 193. Hofmaier 224 B b.

Associated Groups :

Berliner Secession

Tags:
Heinrich Simon was Editor-in-Chief of the Frankfurter Zeitung, a liberal and democratic newspaper free of party influence. The paper championed modern art, poetry and drama. In 1931, he said:
"It is good to remember that time in which the advocates of freedom, the advocates of a humane Germany, experienced hostility and persecution. It is good to remember that these persecutions did not cause them to surrender a single iota of their convictions…This newspaper has lived, to this day, on the belief in this other Germany of freedom and humanity."
Beckmann's portrait shows Simon with a penetrating gaze, cigarette in hand and dressed in a well-cut suit, perhaps about to address an editorial meeting. The large head and staring eyes stop just short of caricature, whilst energising the sitter.