Thou Shalt Not Kill! by Johannes Matthaeus Koelz
Triptych, 1930-37.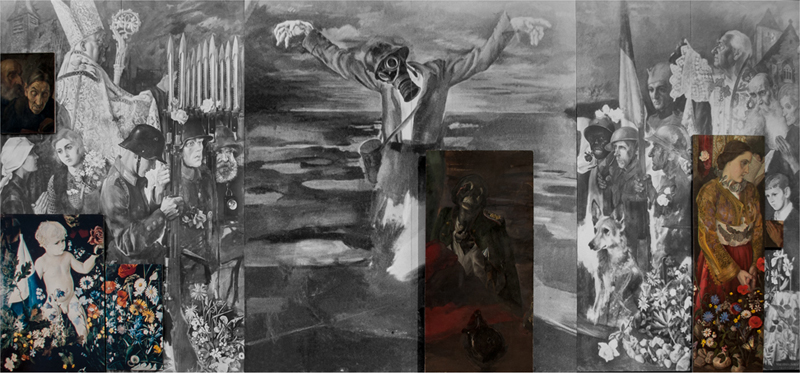 Art work details
Original Title :

Du Sollst Nicht Töten

Year of production :

1930

Artist:

Medium :

Oil painting, Photograph

Materials:

Dimensions :

height: 230 cms; width: 510 cms

Credit Line :

Gift

Copyright :

© Estate of Johannes Koelz. All rights reserved, DACS 2013.

Tags:
Reconstruction, with original fragments.
Johannes Koelz (1895-1971) was born in Muehldorf, Bavaria. He entered the Munich Academy of Art but his studies were interrupted by the outbreak of World War 1. After the death of his brother Hans, killed in action in 1914, Koelz enlisted in the Bavarian Infantry. He won the Iron Cross at Verdun in 1916, for conspicuous bravery, rescuing an injured comrade under fire. After the war he continued his studies part-time at the Munich Academy, becoming a master-student, combining his painting with a new role, as a police officer in the Landswehr. Koelz developed an expressive –realist style, and an early still-life from 1936 is now in the Lenbachaus, Munich. Between 1930-37 he painted a monumental artwork – a triptych, or three-panel painting. He had painted the work in semi-secrecy at his cottage home and studio in a village near Munich. His activities were known only to trusted friends and family.
The giant triptych, now considered Koelz's unfinished masterpiece had followed the design of earlier medieval altarpieces, religious works depicting Christ, either crucified or enthroned, flanked by saints on the side panels.
Koelz updated this concept however, creating a devastating anti-war work, which, instead of Christ, showed a crucified dead German soldier wearing a gas-mask.  The panels either side showed praying soldiers [German forces on the left, Allied forces on the right]; overhead, priests blessing their weapons of war.  In creating this deeply shocking work, Koelz had set himself on a collision course with the authorities and would have faced inevitable arrest and imprisonment had the work been discovered. The slaughter Koelz had experienced first-hand in the trenches had turned him against war for life.
In 1937 Koelz and his young family were forced to flee Germany, when he faced arrest on a charge of 'pacifist propaganda', but incredibly the arresting officer turned out to be the former soldier whose life Koelz had saved in 1916. The artist was informed that the arrest warrant would be served only after 48 hours, giving him precious time to plan an escape. Just before fleeing with his family, Koelz cut his masterpiece into several pieces, which were then secretly hidden for decades. Koelz and his family reached England in 1939.
The artist's daughter Ava Farrington began searching for the missing fragments after her father died in 1971 and has tracked down six, four of which she presented to the City Museums Service in 1998.
Johannes Koelz's lost unfinished masterpiece is reconstructed here with original surviving fragments, [seen in colour] overlaid on a black and white background, based on surviving photographs of the work dating from the 1930s.  These fragments now form part of Leicester's collection of early 20th century German art. 
---
The surviving fragments are:
Left hand panel
Baby boy with flag (private collection, Germany)
Flowers fragment (private collection, Germany).
Centre panel
Right hand panel