The Supplicant (Lord, I Await Your Salvation) by Oskar Kokoschka
Lithograph, 1914.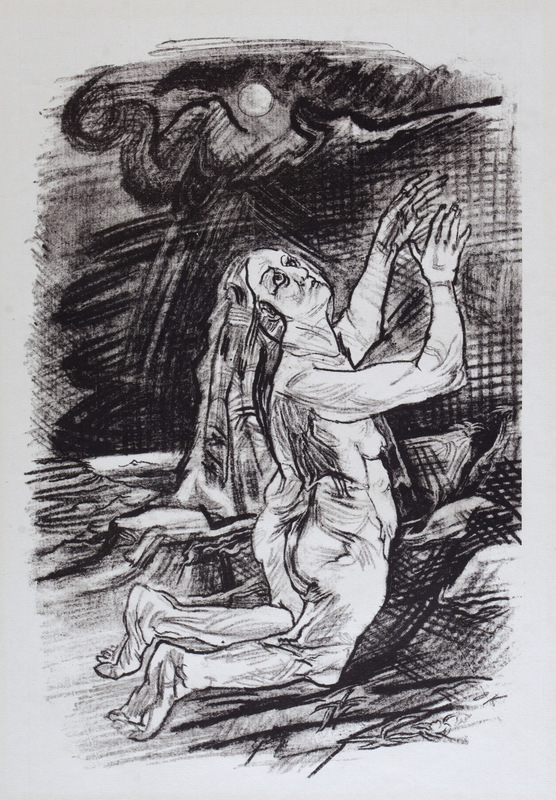 Art work details
Original Title :

Die Flehende (Herr, ich warte auf Dein Heil)

Year of production :

1914

Artist:

Medium :

Original print, Lithograph

Materials:

Publisher :

Fritz Gurlitt, Berlin

Dimensions :

image height: 41.2 cms; image width: 27.6 cms

Credit Line :

Purchased from Mrs Margaret Fisher

Copyright :

© Fondation Oskar Kokoschka/ DACS 2013.

Catalogue References:

Arntz 38. Wingler & Welz 62.

Tags:
From the series "O Ewigkeit Du Donnerwort", "O Eternity Thou Fearful Word" (words from the cantata by Johannes Sebastian Bach).
Gurlitz published a folio of 11 lithographs in an edition of 125. In 1918 Gurlitz published the series as a book in an edition of 125 in the collector's series "Die Neuen Bilderbucher".
MOMA: The Supplicant (Die Flehende) (plate 5) from O Eternity - Thou Word of Thunder (Bach Cantata) [O Ewigkeit - Du Donnerwort (Bachkantate)]