St. Geneviere or The Penance of St. John Chrysostom by Albrecht Dürer
Engraving c.1496.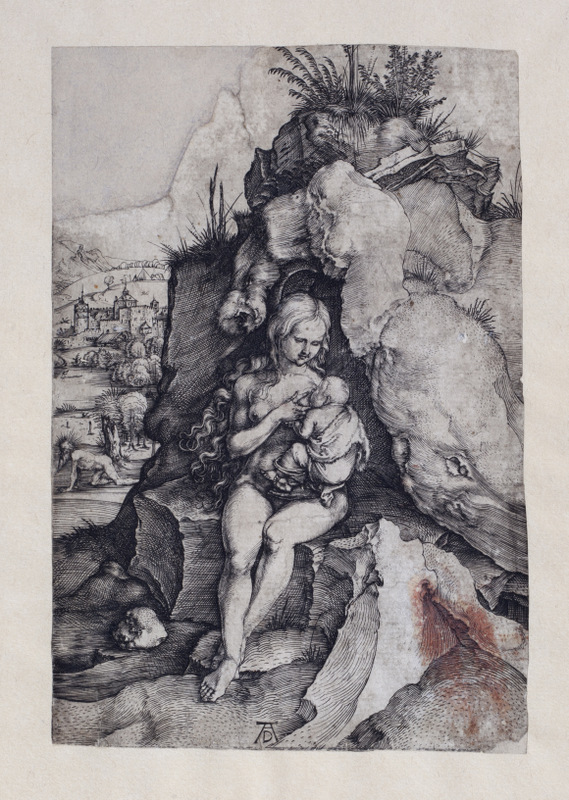 Art work details
Artist:

Medium :

Engraving

Materials:

Dimensions :

height: 19.5 cms; width: 12 cms

Credit Line :

Bequest of Louisa Dudgeon

Tags:
St. John Chrysostom, according to legend, kissed the image of the Holy Virgin as a desperate means to escape poverty. To the amazement of fellow students, he henceforth bore a golden circle around his mouth (Greek 'chrysostomos' or golden-mouthed).
He became a desert hermit and after fathering a child by the Emperor's daughter who had come upon his cave, vowed to walk on all fours until forgiven for his sins. Years later the Empress gave birth to a second child, who refused baptism except from St John Chrysostom. On seeing a strange wild animal brought by hunters to the festivities, the child recognised it as the saint, saying 'You are forgiven'.
Mrs Heaton, Dürer's first biographer in English, describes the princess as 'more graceful in form and more beautiful of face than most of Dürer's female figures. There is a certain tenderness about her that makes us think that perhaps Dürer's sympathies were not entirely with the repentant saint who is seen in the background'.