The Life of the Virgin V; The Presentation of the Virgin in the Temple by Albrecht Dürer
Woodcut.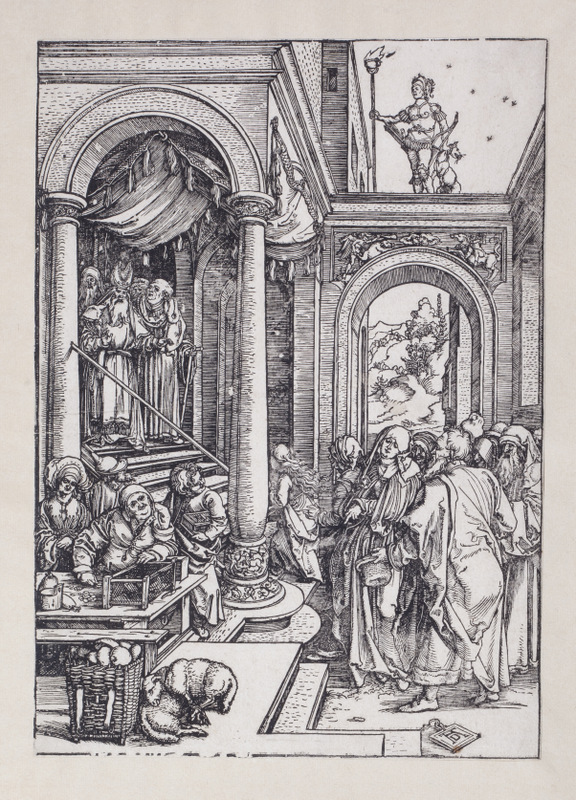 Art work details
Artist:

Medium :

Woodcut

Materials:

Dimensions :

image height: 29.5 cms; image width: 21 cms

Credit Line :

Bequest of Louisa Dudgeon

Tags:
Although the important figures in this composition are Mary's parents, Joachim and Anne, the former holding his doffed hat protectively in front of his wife, Dürer gives the minor figures equal prominence. In particular the merchants occupied at the table of offerings, who appear to eye the new arrivals with a mixture of appraisal and suspicion, whilst immediately behind the pillar the Virgin child runs up the stairs. The Italianate architectural surroundings, with arches, pillars and statuary are of equal interest to the artist and undoubtedly unusual to the eyes of Gothic audiences. 
---
Dürer executed The Life of the Virgin over several years, but initially seems not to have conceived of it as a group. It was probably only after creating a few of the images that he thought of publishing the whole series, comprising 19 plates with the title frontispiece.
The series places the Virgin in settings both earthly and divine, revealing her holy status marked by God, as well as her human qualities and frailties. All the images demonstrate superb cutting and mastery of line and are set within Dürer's distinctly northern landscape.