The Life of the Virgin II; The Angel Appears to Joachim by Albrecht Dürer
Woodcut.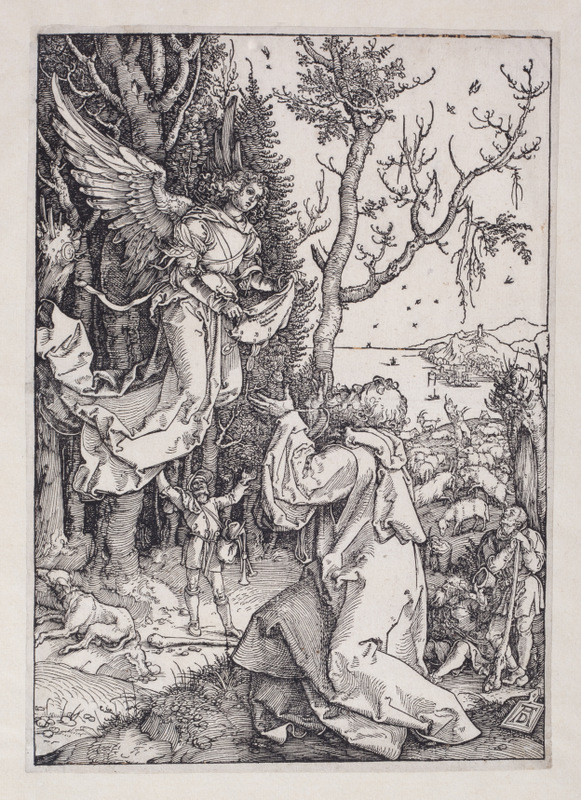 Art work details
Artist:

Medium :

Woodcut

Materials:

Dimensions :

height: 29.5 cms; width: 21 cms

Credit Line :

Bequest of Louisa Dudgeon

Tags:
Events in the life of St Anne and Joachim are found in the proto gospel of James, Matthew and the history of the birth of the Virgin.
At the Great Feast of the Lord, the High Priest had refused Joachim's gifts because he had no children. Whilst he prays in the fields, an angel flies down to Joachim to tell him his marriage will be blessed with the birth of a daughter, to be called Mary.
Dürer uses the device of the edge of a dark wood to give the encounter clarity and impact, while incidental figures of shepherds look on.
---
Dürer executed The Life of the Virgin over several years, but initially seems not to have conceived of it as a group. It was probably only after creating a few of the images that he thought of publishing the whole series, comprising 19 plates with the title frontispiece.
The series places the Virgin in settings both earthly and divine, revealing her holy status marked by God, as well as her human qualities and frailties. All the images demonstrate superb cutting and mastery of line and are set within Dürer's distinctly northern landscape.