The Life of the Virgin IV; The Birth of the Virgin by Albrecht Dürer
Woodcut.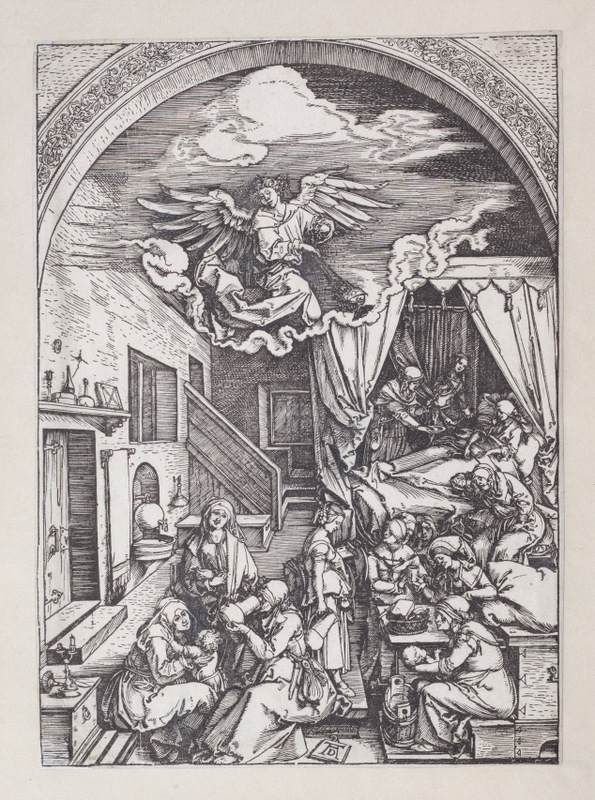 Art work details
Artist:

Medium :

Woodcut

Materials:

Dimensions :

height: 29.5 cms; width: 21 cms

Credit Line :

Bequest of Louisa Dudgeon

Tags:
An angel swinging a censer hovers above a lively and rich composition. In the background, the mother of the Virgin lies in bed, revealed by a parted curtain. The foreground however is typical of a birth scene, with female figures standing, sitting, drinking and conversing. At the bottom right a maid cradles the Virgin child in her arms, about to bathe it in a small tub. Multiple views, recesses, projections and windows add spatial interest and variety.
---
Dürer executed The Life of the Virgin over several years, but initially seems not to have conceived of it as a group. It was probably only after creating a few of the images that he thought of publishing the whole series, comprising 19 plates with the title frontispiece.
The series places the Virgin in settings both earthly and divine, revealing her holy status marked by God, as well as her human qualities and frailties. All the images demonstrate superb cutting and mastery of line and are set within Dürer's distinctly northern landscape.