The Life of the Virgin IX; The Nativity or The Adoration of the Shepherds by Albrecht Dürer
Woodcut.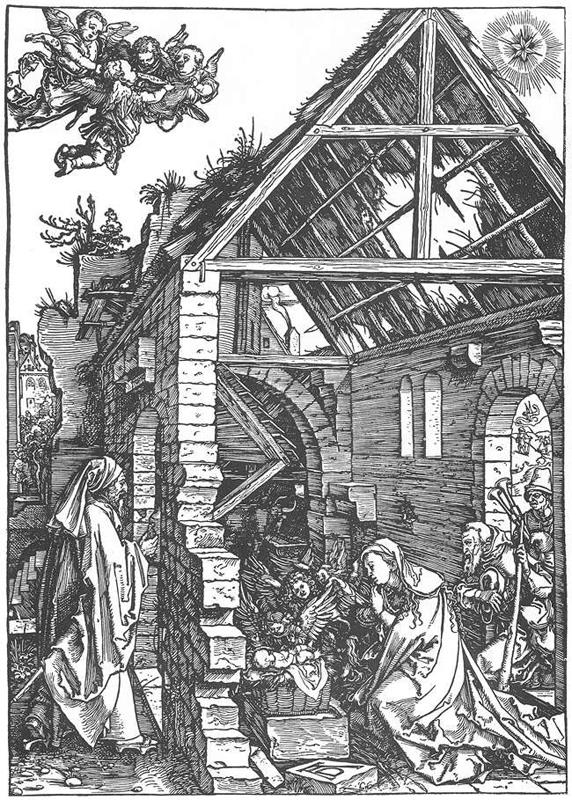 Art work details
Artist:

Medium :

Woodcut

Materials:

Dimensions :

height: 29.9 cms; width: 20.9 cms

Credit Line :

Bequest of Louisa Dudgeon

Tags:
Dürer has placed the vanishing point by the side of the stable. The resulting perspective with the open wall aspect allows for a tightly focused view of the Virgin Mary, the Christ child and angels. Joseph appears at the left, with a lamp and staff, a little uncomfortably disconnected from the main group, while shepherds enter from the doorway opposite.
The structure of the building, its textures and incidental details interest the artist, but the composition allows us to concentrate on the Holy family as they receive their visitors.
---
Dürer executed The Life of the Virgin over several years, but initially seems not to have conceived of it as a group. It was probably only after creating a few of the images that he thought of publishing the whole series, comprising 19 plates with the title frontispiece.
The series places the Virgin in settings both earthly and divine, revealing her holy status marked by God, as well as her human qualities and frailties. All the images demonstrate superb cutting and mastery of line and are set within Dürer's distinctly northern landscape.