The Life of the Virgin XIV; The Rest during the Flight to Egypt by Albrecht Dürer
Woodcut.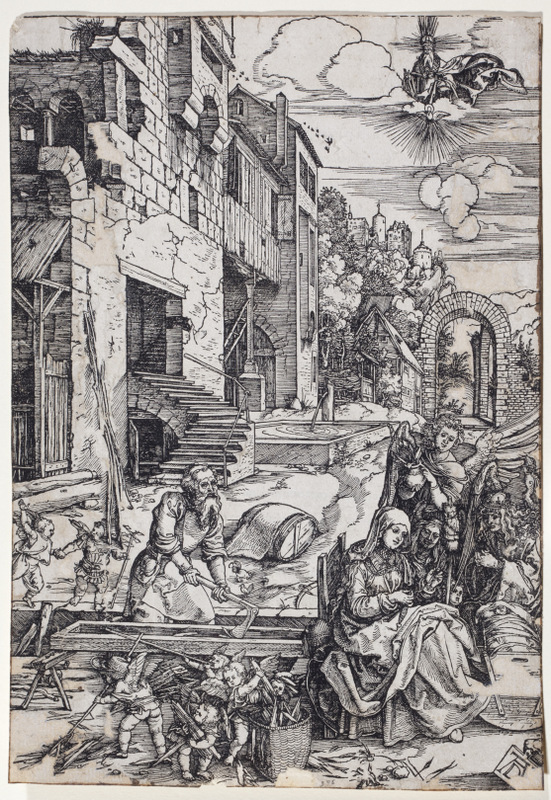 Art work details
Artist:

Medium :

Woodcut

Materials:

Dimensions :

height: 39.4 cms; width: 20.5 cms

Credit Line :

Bequest of Louisa Dudgeon

Tags:
A busy and contented scene, with Mary shown spinning and rocking Christ's cradle attended by three angels. Joseph is working at his carpentry, with little winged putti sweeping up wood scraps and placing them in a pannier.
To counterbalance the placing of Mary's group at the bottom corner, Dürer introduces a collection of half-ruined houses above, their striking variety of lines and features establishing depth and holding the attention to the hillside beyond. God the Father gives his blessing from above.
The sheer range of features, vistas and figure groupings within Dürer's serial woodcuts, as exemplified here, were admired by his contemporaries, who often picked out details to use in new painterly compositions.
---
Dürer executed The Life of the Virgin over several years, but initially seems not to have conceived of it as a group. It was probably only after creating a few of the images that he thought of publishing the whole series, comprising 19 plates with the title frontispiece.
The series places the Virgin in settings both earthly and divine, revealing her holy status marked by God, as well as her human qualities and frailties. All the images demonstrate superb cutting and mastery of line and are set within Dürer's distinctly northern landscape.