Head with Red-Black Hair by Emil Nolde
Watercolour, 1910.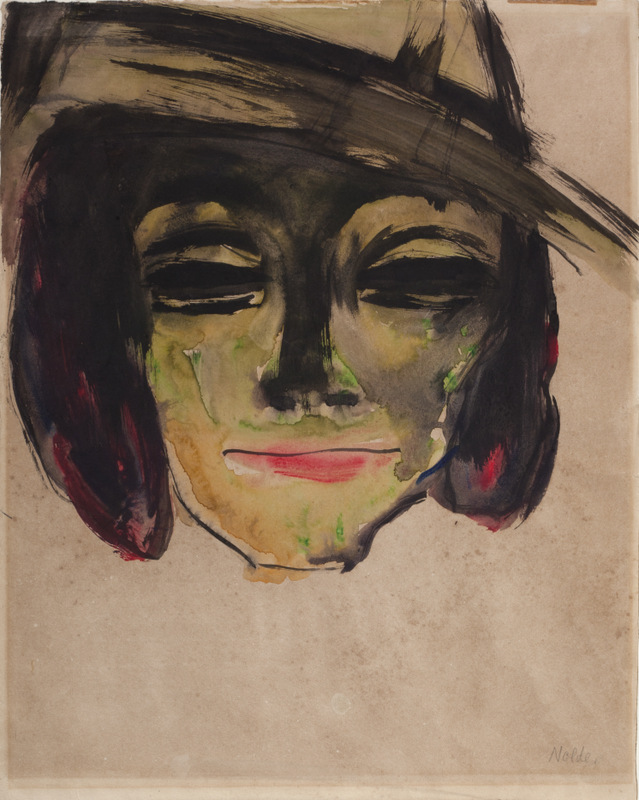 Art work details
Original Title :

Kopf mit rot-schwarzem Haar

Year of production :

1910

Artist:

Medium :

Watercolour

Materials:

Dimensions :

height: 40.25 cms; width: 32 cms

Credit Line :

Purchased from Mrs Tekla Hess, 1944

Copyright :

© Nolde Stiftung Seebüll

Associated Groups :

Die Brücke

Tags:
Nolde had a complete mastery of the watercolour medium. The head, artificially lit from below, appears to have an independent life of its own as it floats into the top left-hand corner of the paper. While the slash of red across the mouth indicates a human, enigmatic smile, the black voids of the eyes are mask-like and rather sinister. The thin fluid green and black of the face has been allowed to spread and drip, contrasting with the firmer contours of the hair where the paint has been dragged down.
Nolde's imaginative power and style developed from his home environment, the North German and Danish coastal landscape and the character of its inhabitants. When Schmidt-Rottluff invited him to join the Brücke group in 1906 he referred to their admiration for his 'violent colour storms'.
For Nolde, as for them, creativity was an almost unconscious process. He learnt from them the art of the woodcut and taught them his etching technique. After nineteen months Nolde left the group but 'remained dedicated to their way of thinking and a friend in artistic matters'.