Visions Plate 13: Pegasus Forced into Military Service by Max Slevogt
Lithograph, 1917.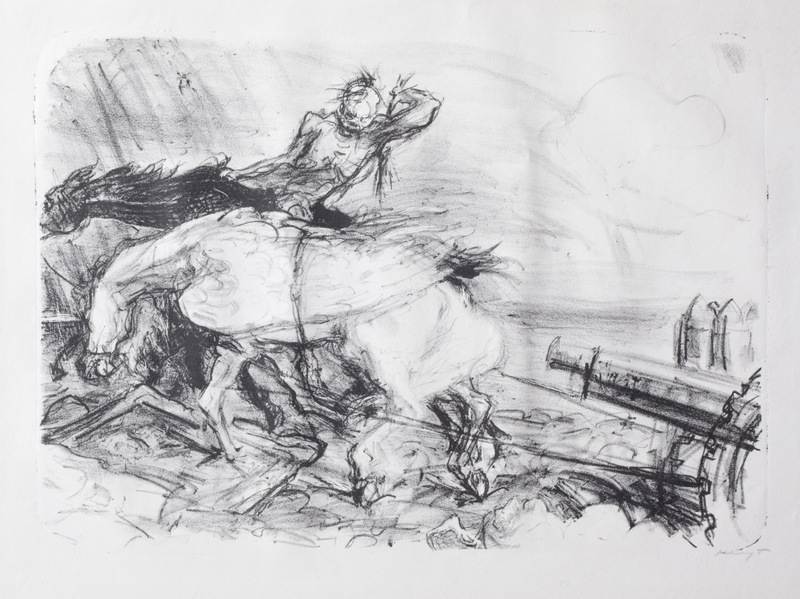 Art work details
Original Title :

Pegasus in Kriegsdienst

Year of production :

1917

Artist:

Medium :

Original print, Lithograph

Materials:

Dimensions :

height: 26.7 cms; width: 37.7 cms

Credit Line :

Purchased from Mrs Monika Kinley with MGC/V&A Purchase Grant Fund assistance

Associated Groups :

Berliner Secession

Tags:
Plate 13 from 'Visions', 1916-17.
In this powerful image, Slevogt depicts the mythical winged horse Pegasus stripped of its heroic status and power. The same creature that Perseus rode to rescue Andromeda is now wretched, its proud head hung low and its wings tightly bound. A demonic rider rains vicious blows down on Pegasus, as the creature drags a heavy cannon through the battlefield.
In the humbling of Pegasus, Slevogt shows us how war indiscriminately destroys art and culture, leaving behind a soulless wasteland.