Autumn Evening, Klotzsche by Conrad Felixmüller
Oil, 1921.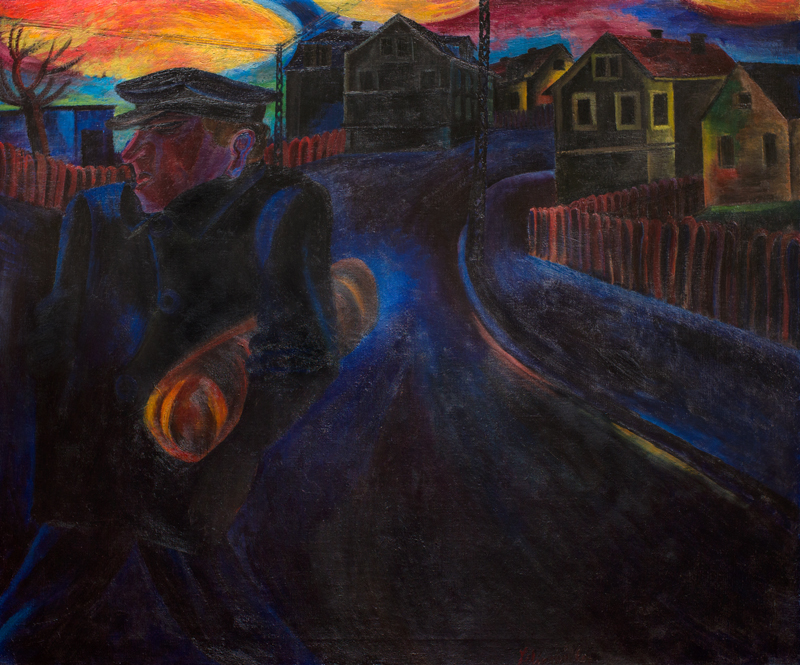 Art work details
Original Title :

Herbstabend, Klotzsche

Year of production :

1921

Artist:

Medium :

Oil painting

Materials:

Dimensions :

height: 99 cms; width: 120 cms

Credit Line :

Purchased 2015 from a private collection, with the support of the V&A Purchase Grant Fund and the City of Leicester Museum Trust.

Copyright :

© DACS 2014.

Associated Groups :

Novembergruppe, New Objectivity

Tags:
This painting, depicting a sunset scene with a factory worker returning from his shift, belongs to a highly significant series of paintings Felixmüller produced in the early 1920s. The artist's brother was a mining engineer, and Felixmüller produced a series of canvases showing the life of coalminers in the Ruhr mining region, linked to his early political belief that art should celebrate the dignity and value of working life. Although set in the district of Klotzsche, a suburb of Dresden, the date and theme of the painting place it within this key series.
Felixmüller has used a palette of exceptional depth and richness to evoke the gathering gloom of the end of the working day and the close of a factory shift.
The surrounding houses and empty streets are quiet and empty, strengthening the iconic nature of the striding figure.
The dramatic purple and blue shadows, contrast beautifully with the electric orange of the sunset sky, reflected in the golden glow of the bread stick under the worker's arm, the 'daily bread' of honest toil.  The artist's use of exaggerated dark colours was a deliberate move, to awaken in the viewer and empathy and understanding of the richness and profundity of the simple things of life. He wrote later:
"I was impelled to bold experiments of the kind which were currently shaking up the artistic life of all countries; strong independent colours, radically simplified forms. The goal which obsessed me was to convey not impressions of the external world, but the expression of experienced reality."
(cited in Conrad Felixmüller, 'Menschen', 1975.)