Soldier in the Madhouse II by Conrad Felixmüller
Lithograph, 1918.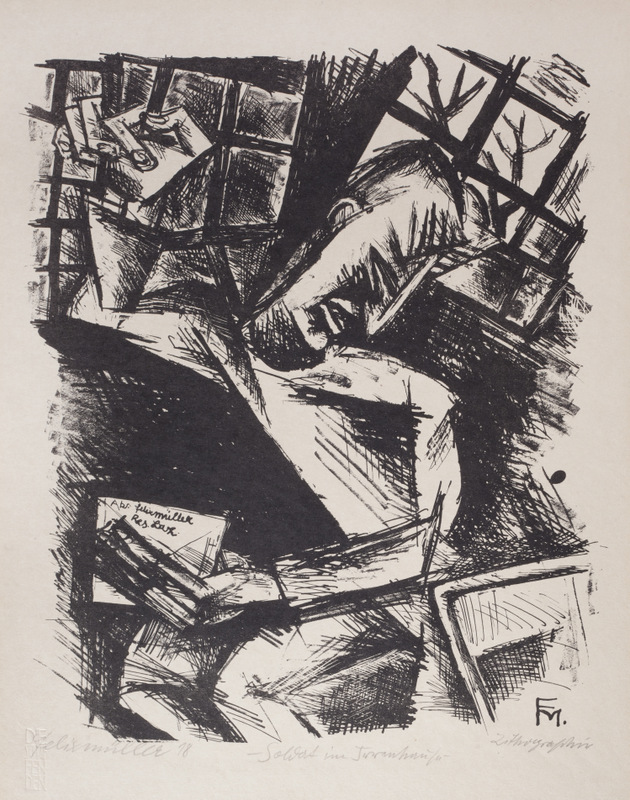 Art work details
Original Title :

Soldat im Irrenhaus II

Year of production :

1918

Artist:

Medium :

Lithograph

Materials:

Dimensions :

paper: height: 40.5 cms; width: 30.8 cms; print: height: 33.8 cms; width: 27.5 cms

Credit Line :

Gift of Michael Brooks

Copyright :

© DACS 2013

Associated Groups :

Dresdner Sezession

Tags:
In this haunting image Felixmuller shows a young soldier, driven to insanity through unending nightmares of conflict, his face a twisted mask of pain.  Many young men returned from war with mental as well as physical scars, alienated from friends and family, some destined never to recover.
One of the youngest artists in the New Objectivity movement, Felixmüller was also a member of the Communist Party of Germany. His graphic work appeared in the periodicals Die Aktion and Der Sturm (the Storm). His early, strongly expressionist paintings often confront the social realities of Weimar Germany, ranging from factory workers to political agitators, alongside later intimate portraits of his family and friends.