Visions Plate 12: The Great Allies (Three Warlike Nations in Prayer) by Max Slevogt
Lithograph, 1917.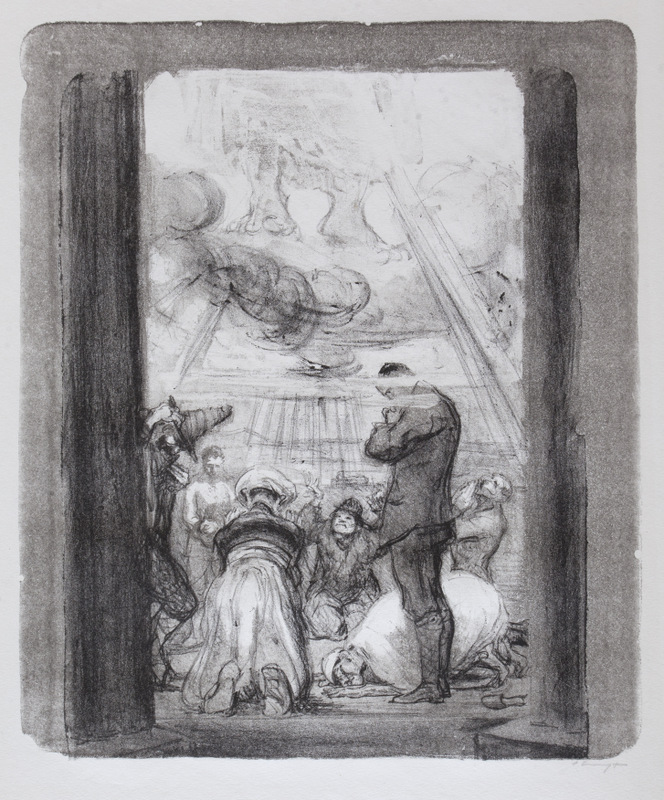 Art work details
Original Title :

Der gross Alliierte (Drei verschiedene kriegsffuhrende volker im Gebet)

Year of production :

1917

Artist:

Medium :

Original print, Lithograph

Materials:

Dimensions :

height: 37.5 cms; width: 31.8 cms

Credit Line :

Purchased from Mrs Monika Kinley with MGC/V&A Purchase Grant Fund assistance

Associated Groups :

Berliner Secession

Tags:
Plate 12 from 'Visions', 1916-17.
The view through an open doorway reveals warlike nations in prayer, yet in fact enemies. Various costumes represent the different countries present. Above the bowed, kneeling figures is a bank of clouds upon which rest the feet of a figure we can assume to be God.
Slevogt is protesting against the hypocrisy of countries at war, that all thought of themselves as righteous and deserving of God as their great ally alone.