The Life of the Virgin XI; The Adoration of the Magi by Albrecht Dürer
Woodcut, 1511.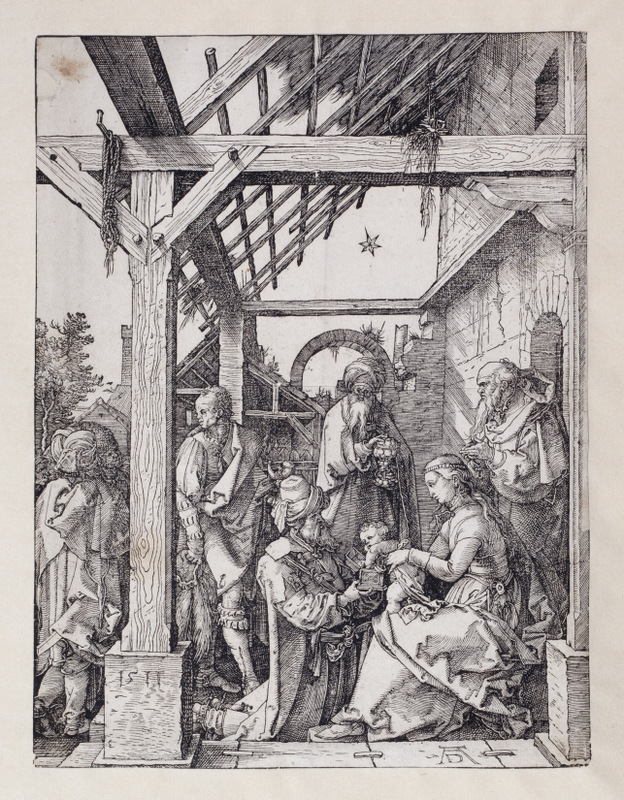 Art work details
Year of production :

1511

Artist:

Medium :

Woodcut

Materials:

Dimensions :

height: 29.2 cms; width: 21.9 cms

Credit Line :

Bequest of Louisa Dudgeon

Tags:
Visible beyond the remains of the roof and framed by massive oak pillars and beams, the Star of Bethlehem shines above the three kings as they come to worship the infant Christ. A moment of subtle drama is created as the Moorish king steps across the threshold, turning back towards two turbaned figures and fixing them with a direct gaze, noticed by Joseph on the right.
Meanwhile the Christ child, held by Mary, curiously reaches into the casket held by the kneeling king to inspect its contents, providing a beautiful and intimate focus of the moment of worship.
---
Dürer executed The Life of the Virgin over several years, but initially seems not to have conceived of it as a group. It was probably only after creating a few of the images that he thought of publishing the whole series, comprising 19 plates with the title frontispiece.
The series places the Virgin in settings both earthly and divine, revealing her holy status marked by God, as well as her human qualities and frailties. All the images demonstrate superb cutting and mastery of line and are set within Dürer's distinctly northern landscape.