Die Brücke (The Bridge)
Die Brücke was founded on 7th June 1905 by four architecture students.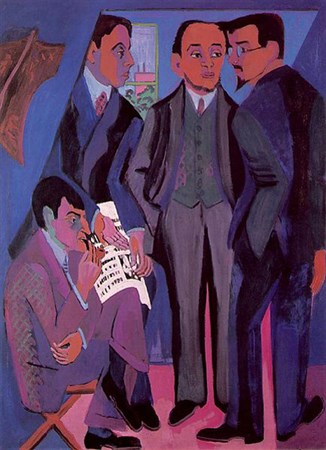 They were: Ernst Ludwig Kirchner (1880-1938), Erich Heckel (1883-1970), Karl Schmidt-Rottluff (1884-1976) and Fritz Bleyl (who left shortly afterwards). The group was later joined by Max Pechstein (1881-1955), Otto Mueller (1874-1930) and Emil Nolde (1867-1956). Their name symbolised the' bridge' over which they would cross to the art of the future, a title derived in part from their admiration for the writings of the philosopher Friedrich Nietszche. In Nietszche's Thus Spake Zarathustra (1892), the prophet Zarathustra proclaims that 'what is great in man is that he is a bridge and not a goal.'
The founding members shared a communal approach, which included sharing a studio, painting and taking holidays together. Inspired by the paintings of Van Gogh, Munch, Gauguin and the tribal art they encountered at the Dresden Ethnological Museum, they produced raw, powerful art, which aimed for a new and authentic emotional response to the world.
In 1906 the group published its manifesto in the form of a woodcut print, which declared:
'With a belief in continuing evolution, in a new generation of creators as well as appreciators, we call together all youth. And as youth carrying the future, we intend to obtain freedom of movement and of life for ourselves in opposition to older, well-established powers. Whoever renders directly and authentically that which impels him to create is one of us.'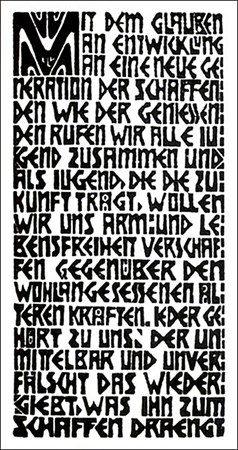 They broke the traditional rules of making art, creating harsh, distorted forms painted with exaggerated colour. They shared a passion for printmaking, particularly the woodcut. An important element of building support for the group, were the annual portfolios of prints they issued to subscribers, known as 'passive supporters'. One of the most influential of these was the German art historian Dr. Rosa Schapire (1874-1954), who wrote positive reviews of the group and became a lifelong friend of Karl Schmidt-Rottluff.
Around 1911 the remaining Brucke artists moved to Berlin. This provided greater opportunities to focus on the endlessly changing cityscape, and new markets for their work. Antidotes to the tensions of the city were found in summer vacations to unspoilt coastal locations, including the island of Fehmarn, .and the villages of Nidden and Dangast. Artistic disagreements among the group came to a head with the publication in 1913 of Kirchner's Chronik KG Brücke (Story of the Artists' Group Bridge), prompting the disbanding of the group in the same year.